Publications
Elderberries (the UURMaPA Newsletter)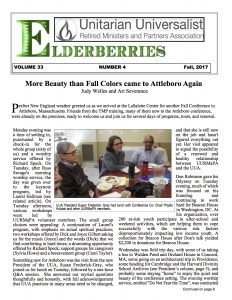 The UURMaPA newsletter, Elderberries, is mailed to members four times a year and is full of news and information. The current and archived issues are also posted online. To opt out of receiving a printed/mailed copy (which is printed in black and white) and download Elderberries in the full-color edition, contact the Membership Coordinator (membership@uurmapa.org).
You can download the current issue here: Elderberries 2017 Fall
Note: Some of the oldest archival copies are formatted slightly differently than the editor(s) intended due to changes in word processing software, resulting in incompatibilities with files created in older versions.
Request: We are missing some issues (indicated below by an asterisk and lack of download link). If you have paper copies of any of them or any issues published before 1993 and would be willing to lend them to be scanned, contact webmaster@uurmapa.org to arrange shipping and return.
Directories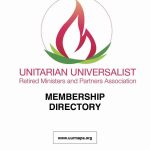 UURMaPA publishes two directories, the Membership Directory and the Area Connections Directory (formerly the Caring Area Directory). The Membership Directory includes the Area Connections Directory or you can download it as a separate document.
Both directories require a password in order to protect members' information. You can obtain the password from the Membership Coordinator (membership@uurmapa.org).
The directories are updated monthly. Please send corrections to membership@uurmapa.org.
Click here to download the current Membership Directory and here to download the Area Connections Directory.
Retirement Guide
The UURMaPA Retirement Guide offers wisdom from the experience of dozens of our members in their retirement. It may well be useful to ministers and partners contemplating retirement as well as those who have already retired. You may download a copy (in pdf format) by clicking on the image to the left.
Best Practices in Right Relations
Recommendations and Resources for Best Practices in Right Relations among Settled, Interim, and Retired Ministers and their Families is the report of a joint task force representing UURMaPA, the UUMA, the UU Interim Ministers Guild, and the UUA. The task force was convened in the fall of 2011 and was charged to gather, consider and report on best practices for improving the relationships between settled ministers and retired ministers. Their 2012 report can be downloaded (in pdf format) by clicking on the image to the left.